2016 Audi A3 2.0 TFSI Cabriolet Progressiv Road Test Review

Serious style arrives in the compact convertible class
    Summertime motoring doesn't get more enjoyable than from behind the wheel of a premium convertible, and Audi's A3 Cabriolet is one of the most stylish, and most affordable ways to turn the afternoon commute into a memorable communion with sol.   
At just $42,600 the little Audi convertible literally opens up a new world of opportunities to luxury buyers, that entry price starting thousands less than its closest and only competitor, while its quick and sporty yet ideally comfortable demeanor is probably better suited to the open top crowd.   
Affordable yes, but that doesn't mean Audi skimps on details. The cabin features a full soft touch dash top that wraps all the way down the instrument panel, while the door uppers and rear windowsills are made from high-quality pliable synthetics too. My tester's aluminum trim was beautifully done, especially the thicker band that ran right across the dash and around the cockpit, while the vent bezels include stylish aluminum grips for a cool look and easier use. Additional aluminum trim surrounds the shifter and MMI infotainment system controller, while the latter includes a thinner, wider dial that's an improvement in design, feel and functionality over its predecessor, its matte-black top actually a touchpad for finger-gesture inputs.   

It connects through to a high-resolution infotainment screen that powers up out of the dash on startup, and for those who'd rather have it hidden away, it can be powered down while driving by pushing a button on the centre stack. Likewise the dual-zone auto HVAC interface is a real thing of beauty and ultra-easy to use. Last but hardly least, all A3s boast some of the best switchgear in the industry, with tight fitting, nicely damped buttons and knobs made from better than average materials, plus a row of toggles across the centre stack that feel as if they're constructed from solid composite.   
The front seats meet Audi's usual high standard for comfort and support, whereas those in back actually fit small to mid-size adults quite comfortably. What's more, the trunk is sizable for the class at 286 litres (10.1 cubic feet) with the cloth top down or a considerably more generous 348 litres (12.3 cubic feet) with that top upright and divider out of the way, which incidentally makes it bigger in both configurations than its closest rival. What's more, my tester included optional 50/50 split-folding rear seatbacks for added cargo/passenger versatility, again besting its competition that force all rear passengers from the equation when folding their one-piece seatback down. Additionally, a handy lever on each side of the A3 Cab's cargo wall makes dropping those split seatbacks easy.   
The A3 Cabriolet's electrohydraulic fabric top retracts and goes back up quickly and easily too, the task taking a mere 18 seconds. That's quick enough to deploy while waiting at a stoplight, but don't worry if the light goes green as it will continue opening or closing at speeds up to 50 km/h until finished. The car delivers coupe-like quietness when upright too, much thanks to multi-layer roof construction that sandwiches sound insulation between outer and inner skins. And while we're on the subject of soft sound absorbent roofs, the A3 is protected during rollover collisions by a reinforced windshield frame and active roll bar-like plates positioned behind the rear headrests that instantly spring into place when a rollover is detected.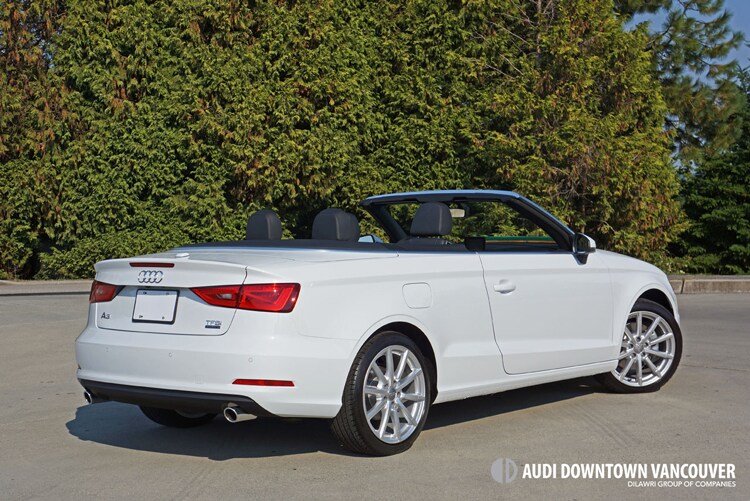 Contemplating rollover in a car as stable as the A3 Cabriolet seems like worries wasted, mind you, as few convertibles are as capable through corners. Audi even upgraded this midgrade Progressiv model with a stylish set of 10-spoke 18-inch alloys on 225/40R18 Continental ProContact all-seasons, replacing the standard 17s, and despite these not being the most tenacious shoes in the A3 Cab's closet they gripped tarmac well enough for all but the most extreme aggressiveness. Then again, even when I pushed the little ragtop past the point of reason when a serpentine set of S curves became too tempting, it took to each corner effortlessly without a single chirp of complaint from the rubber below, while the body always felt taut and rigid with the top up or down. The A3 Cabriolet is thoroughly enjoyable on the highway too, where it immediately settles into the role of quiet, comfortable traveling companion. Around town it was as easy to pilot through busy thoroughfares as any Audi I've experience before, the same front strut and multi-link rear suspension that's so capable when mixing it up in the twisties showing comfortable compliance over rough pavement as well.   
No matter where you're driving the A3 Cab's off the line acceleration is strong with speed really picking up as the revs rise, Audi's direct-injection and turbocharged 2.0 TFSI delivering 220 horsepower and 258 lb-ft of torque from just 1,600 rpm for good initial jump, whereas standard four-wheel Quattro traction makes sure all the power gets to the ground no matter the condition of road beneath, resulting in a 6.3-second sprint from standstill to 100km/h before attaining a claimed 209 km/h terminal velocity. Even when flicking its blisteringly quick shifting paddle-shift actuated six-speed S tronic dual-clutch automated transmission to its tallest gear I never saw the trees blur past at such speeds (and would never admit to it if I had), but the quick rush of speed was still plenty of fun up to more conservative limits.   
Considering its performance the A3 Cabriolet delivers impressive fuel economy at 10.1 L/100km in the city, 7.5 on the highway and 8.9 combined, thanks in part to a sophisticated idle start/stop system and other eco-goodies, but where the car truly shines is in its combination of performance and comfort, the aforementioned front seats wonderfully cradling due to standard 12-way adjustability including four-way lumbar modulation. They're leather covered and three-way heatable too, whereas the thick, meaty multifunction steering wheel also gets the leather treatment, as do the gearshift knob and skirt.   

While we're talking features I might as well give you a rundown on the car's key items, with additional base Komfort kit not already mentioned including micrometallic platinum- and aluminum-look interior detailing, auto on/off headlights with integrated DRLs, fog lamps, an electromechanical parking brake, heatable powered side mirrors, rain-sensing wipers, dual-zone auto HVAC, Audi's excellent MMI infotainment system, satellite radio, Bluetooth phone and audio streaming, a wind blocker that's stored in the trunk, and much more. Along with options such as HID headlights, LED taillights, rear parking sensors and proximity access, larger wheels and more, you can opt for a brown leather and brown roof combo at no charge depending on exterior colour.   
As tested Progressiv trim starts at $45,100 and adds the larger 18-inch alloys, HIDs, LED DRLs, LED taillights, bright window surrounds, aluminum doorsills, Mistral aluminum interior inlays, LED cabin lighting, powered front seats, an auto-dimming rearview mirror, and more, while various packages and standalone features can allow for LED headlamps, proximity access, Audi drive select with preset driving modes, navigation, parking sonar, a rearview camera, Comfort seats, and the list goes on, plus styling and performance upgrades from an S Line Sport package.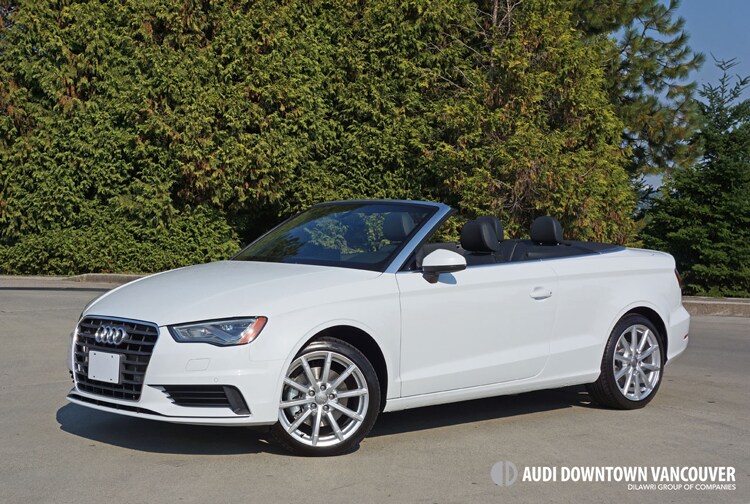 If that's not enough top-line Technik trim includes many of the lower trim options plus Bang & Olufsen audio, Audi side assist that warns of approaching traffic, plus the availability of adaptive cruise control with stop and go capability, active lane assist, a more advanced pre-sensing crash system, plus more.   No matter how it's equipped there's a lot to love about the new A3 Cabriolet. From its sharp styling to its even sharper responses on the road, it's an energetic little drop-top that simultaneously delivers a high level of refinement and plenty of all-weather year-round practicality.   
Story credits: Trevor Hofmann, Canadian Auto Press   
Photo credits: Karen Tuggay, Canadian Auto Press   
Copyright: Canadian Auto Press Inc.