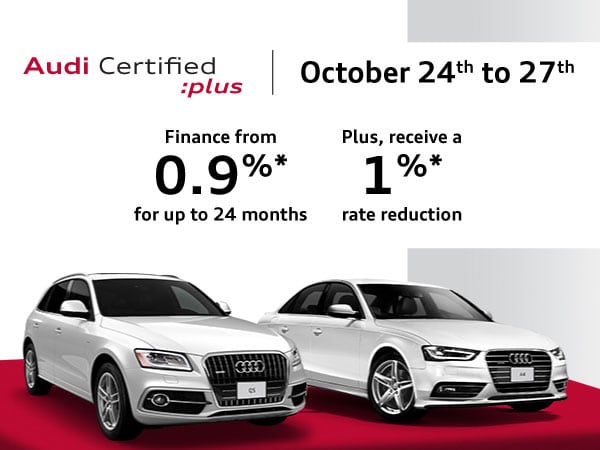 If luxury, style, and peace of mind aren't enough, here's a sale!
Only when an Audi passes our industry-leading 300+ point inspection process does it meet our rigorous Audi Certified :plus standards. 
So you can be certain the car you drive off with is every bit as Audi as you imagined. Join us from October 24th-27th to receive a 1% rate reduction on select Audi Certified :plus vehicles. For a limited time only, enjoy rates starting at 0.9% financing for up to 24 months on select Audi Certified :plus vehicles.
Shop our current inventory today! 
© 2018 Audi Canada. 'Limited-time financing offer available on select 2013 to 2018 Audi Certified :plus models, on a 24-month term, on approved credit through Audi Finance. This offer is not available with Audi Select financing. "Reduced rate is available for financed purchase (including Audi Select) of select Audi Certified :plus models on approved credit through Audi Finance. +Excludes any vehicles subject to an outstanding safety recall where the recall repair is not available and completed. See dealer for details. Dealer demonstrator vehicles must be sold as an Audi Certified :plus vehicle to qualify. Reduced rate cannot be lower than 0%. Conditions apply. See dealer for details. Example: Selling price of $30,000 for a 2015 Audi A4 2.0 TFSI quattro financed at 0.9% APR for 60 months, with a down payment of $5,000, equals $426 per month. Dealer may sell for less. Down payment or equivalent trade-in, due at signing, may be required. Cost of borrowing would be $557 ($603 in QC including RDPRM fee) for a total obligation of $30,557 ($30,603 in QC), excluding taxes. PPSA (where applicable), license, insurance, registration, options, and app ble taxes are extra. Offer available October 24 to 27, 2018, and is subject to change or cancellation without notice. European models shown with options and features that may not be available at the time of purchase. AUDI A6 trademarks are used under license. To find out more about Audi, visit your Audi dealer, call 1-800-FOR-AUDI, or visit us at audicpo.ca.