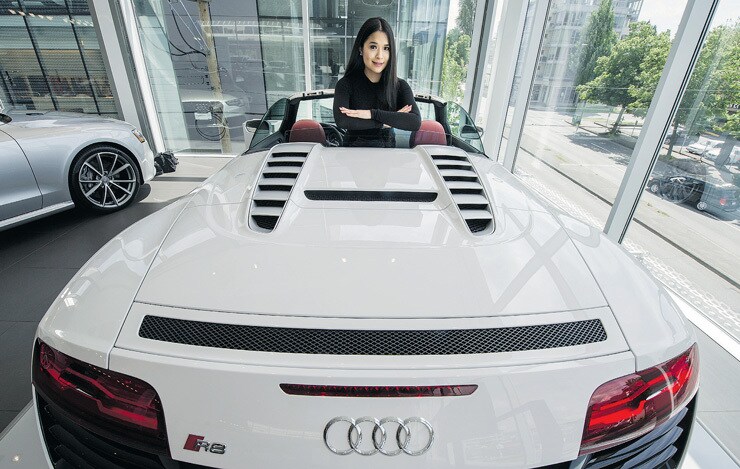 Bitten by the automotive bug
DEALER PRO:  Kim Ly started in sales, is a financial services manager and aiming higher

Alexandra Straub
WOMEN AT THE WHEEL
While selling sunglasses was a great part-time job, Kim Ly wanted a little bit more out of life.
"I was coming right out of school, and a girlfriend said to me, you should try selling cars," she recalls.
Naturally, she had her apprehensions. She wasn't familiar with the industry or the products. But she had retail experience and a few years of it, too.
Her friend kept encouraging her, and so Kim gave it a go. She applied at a newly built auto mall and got a job with a Hyundai dealership.
Back then, she explains, the product wasn't as popular as it is today, nor was there as much promotion, so it gave her ample time to study the product and know it inside and out. And also to learn how to sell vehicles. In her third month, she sold seven cars, which was very exciting to her.
After that, she transitioned to Honda, where she sold 12 cars in her first month.
Needless to say, the automotive bug had bitten her.
After a year-and-a-half, she decided that selling cars was great, but that wasn't the direction she wanted to go.
She recalls telling herself, "I want to go into the finance office. That's what I really want to do."
She repeatedly asked if she could step in that role but there weren't any opportunities.
So she decided to up the ante.
Kim took an unpaid week off work, took a financial course and came back armed with knowledge. Still, there were no opportunities.
So she made one. She volunteered to sit in the business office after her sales shifts were over to learn the tools necessary to one day get into the finance office.
She recalls saying, "I'll sit in the corner and promise I won't talk and just observe!"
The dealership recognized her ambition and gave her a chance.
"Slowly, they were like, okay, I have a doctors appointment, so you can sit in here for the next few hours." It evolved from there.
"It was just the right fit," Kim explains, "It just worked out perfectly. I love meeting new people and I love doing paperwork."
She's been in the finance office for six years now, and says, "I just made the transition over to Audi at the beginning of this year."
Moving over to a German brand, and the Dilawri Group, was a new initiative for Kim.
Up until taking the plunge into the unknowns, she had been working with Asian manufacturers. She knew the processes inside and out and was comfortable where she was.
But in true Kim spirit, she wanted a new challenge and a new opportunity for personal and professional growth.
"I was thinking, is this going to be what I want to do? But I was sold on the dream. And sure enough, that's what it has been."
As for the transition, she remarks it has been, "Amazing."
She adds, "I think that's what's so exciting, there were no footprints before. I'm not stepping in where The Audi Downtown Vancouver dealership recently opened its doors  someone left off." in February of 2014.
Being a financial services manager there, she explains when she comes into the picture.
"As soon as the brand specialist makes a deal, what they'll do is bring the file up to me, and that's when I meet with the client, and we arrange for financing, final paper-work, go over products, insurances, and while paperwork might not be everyone's cup of tea, she loves it. more.""It keeps me on my toes!"
She explains that even if she doesn't meet with any clients, she's still busy from the moment she walks in to the moment she finishes her day. In a good way, of course.
"You have to love what you do, you really do," she remarks.
This November, she'll celebrate being in the industry for eight years. She's worked hard to get to where she is and still says, "I'm really excited about what's ahead."
Her career aspirations? To become a general manager of a dealership.
I have no doubts that she'll reach that milestone.
By
Alexandra Straub
WOMEN AT THE WHEEL
shiftinggearsgirl@gmail.com Twitter.com/cargirlsgarage
The Province Newspaper
Date Posted: May 29, 2014