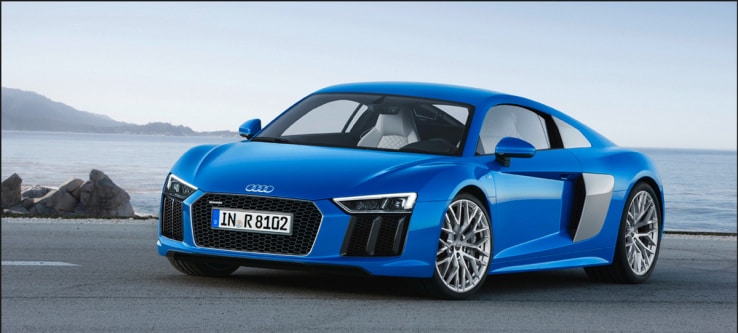 Speaking of pleasant surprises, the 2016 Audi R8 has revealed itself in entirety a week ahead of schedule. Due to debut at next week's 2015 Geneva Motor Show, we're guessing Audi wanted excited spectators to have more digital snaps and details to chew on-making for a more informative and interactive in-the-flesh unveiling.
What folks would be most excited for is its revamped engineering makeup. The 2016 Audi R8's* architecture is made of aluminium and carbon fibre deemed the "Audi Space Frame," an appropriate moniker as the new R8 is 110 pounds lighter compared to its predecessor. That's impressive, considering the R8's torque has also managed to increase to 413 lb-ft at its max. To go with, the 5.2L V10 engine is capable of 532 horsepower. This baby can go from 0-60 in three seconds. Its handling is now more sophisticated to go with these stat upgrades, with a new system that adjusts the percentage of torque exerted by the front or rear wheels depending on how you're driving.
Because it's a new-generation supercar from one of the most savvy automakers in the world, anticipation is high. But also because Audi's perfected the R8 so well in their first try, it would be unseemly to change too much. Such are the reasons that led to the lack of experimentation in updating the exterior. Instead, Audi's designer chose to refine only where necessary (slight sharpening in the silhouette, for example), saving the fun for the interiors. The dashboard now employs a more "driver-centric" feel, complete with a new 12.3" display situated in front of the driver that informs him or her of every performance data factor: power and torque output, a shift-light indicator, and a g-force graph.
As always, Audi balances its brawn with a nuanced user experience. The R8 is immensely powerful, but it knows how to handle itself depending on the circumstances. Three modes are available-comfort, auto, and dynamic in order of power-which work perfectly with the new driver display.
The 2016 R8** is available in showrooms this summer, giving us just one more reason to wish it was warmer already. But as Audi knows-in the eight long years we've waited for this new generation-good things come to those who wait.
*European model only
**Canadian market will not receive 2016 Audi R8 model. Canad will see the 2017 R8 Coupes with an ETA of Spring 2016 V10 540hp and the V10 Plus 610hp. 
Source:
Dilawri Auto Blog
Date Posted: February 26, 2015